Aka: Look at all this cool stuff!
As many of you know, Doug and I really lucked out as far as living space for our first year in London. The professor with whom Doug is working has a colleague who is on sabbatical for a year, and needed someone to rent his home. So when Doug was here for a visit on his own, he met the owners, looked at the house, negotiated a price we could afford, and assured me I would love the place.
The house is about 100 years old with a lot of character, but is has also been recently renovated, so it has all the conveniences of a new home. Top that off with an excellent location, in one of the nicest neighbourhoods in the city, and it is much nicer than anything we would normally be able to afford. Because the owners' main concern was having someone they could trust in the house while they are gone, they are renting it to us for mortgage and utilities costs.
As you can imagine, since they are only gone for a year, they left most of their furnishings here and it has been an experience moving our stuff in and around their things. We decided to sell our Craigslist couches before leaving Kalamazoo, so those were a couple items we didn't have to store. As it turns out, the only furniture of ours that isn't in storage is our bed, kitchen table, filing cabinet, and trunk. All other bookshelves, dressers, and desks are stored in the basement. (Yes mom, we finally got our stuff out of the garage this weekend!)
We are even using most of their kitchen things. I mean, why pack up their stuff and unpack our stuff, only to repack our things and unpack theirs in a little under a year? So I've had fun playing with all the little kitchen gadgets that they have and we do not, not to mention being spoiled by a gas range. (All I've ever know is electric.)
The down side is, even though we have added a few touches by putting some photos and things around, we are still definitely living in someone else's home, and with someone else's cat! Our cat is happily vacationing at Nana and Grandpa's place in Ohio and enjoying the great outdoors for the first time in two years. Meanwhile we cat-sit as well as house-sit. We suspect that the new cat, Honeysuckle, is missing her family and demanding a lot of attention as compensation.
So far, the house is working out really well. The location is great, a quick bicycle ride or nice walk to downtown as well as campus. The size is more than we need, leaving plenty of storage for our stuff as well as some of theirs. And the big pluses – a dishwasher and washer/dryer, we are being spoiled for sure!
Oh, and I almost forgot! We have a hot tub and a guest room with a queen size bed. Guests are welcome! :)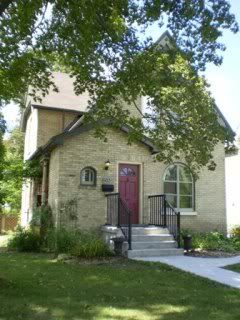 Our home for the next year!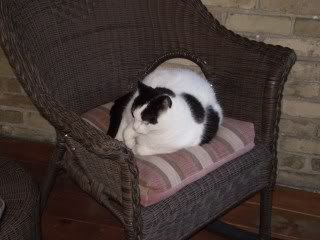 Honeysuckle "Honey" the cat